Cannes'22: When feminist activists painted the red carpet 'Blood Red'
Ruchhika Dasgupta, SSIS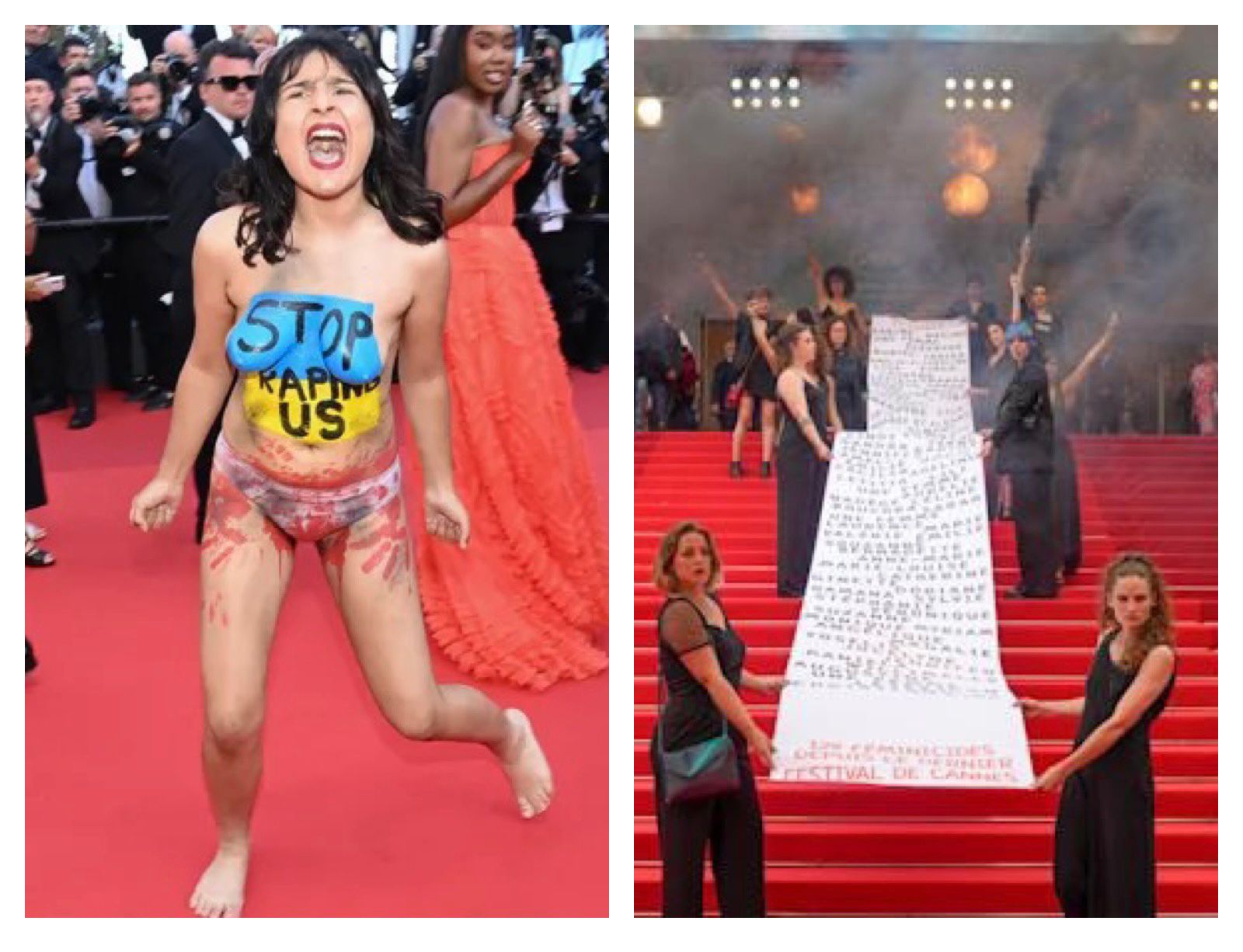 Collage : By author
Source :
Picture on right : https://s.yimg.com/ny/api/res/1.2/5pYcIgtwr4.dJdylCv0s3Q--/YXBwaWQ9aGlnaGxhbmRlcjt3PTk2MDtoPTU0MDtjZj13ZWJw/https://s.yimg.com/uu/api/res/1.2/GdKiMZaqJRNiKcsIUmCf1Q--~B/aD00NzY4O3c9ODQ3NjthcHBpZD15dGFjaHlvbg--/https://media.zenfs.com/en/snappa_movies_892/38e88693108ac8b7f757a78f8b90de1c
Picture on Left : https://jezebel.com/activist-crashes-cannes-red-carpet-to-protest-rape-in-u-1848955858
When a SCUM activist stripped and ran across the red carpet of the Cannes Film Festival on 20th May, 2022 (Acevedo, 2022) in protest of the sexual violence against Ukrainian women who have become victims of the Russia-Ukraine war, the global attention was forcefully turned towards the atrocities that were being committed just a few thousand kms away from all the glitz and glamour. This young woman painted her bare body with the Ukraine flag and wore nothing more than a single piece of underwear painted in red signifying the blood from sexual assault and had the words "Stop Raping Us" written over her torso.
The film festival is a global stage where renowned personalities of the industry come together from every corner of the world to celebrate the various films that make a global impact for the said year. Festivals like this are a powerhouse for soft power diplomacy which makes it more impactful in terms of the global reach. Cinema has a power to connect people and throw light on sensitive issues that plague the society. Hence, when such a huge display of power, art and culture was taking place just a few thousand kms away from one of the worst wars of modern times, such an act of protest was an eye opener.
This was soon followed by another act of protest against femicide in France right before the screening of the movie 'Holy Spider' which is inspired by the real life example of Saeed Hanaei who killed 16 women as part of the hate crime. 12 feminist activists from the group Les Colleuses unfurled a long list of names on the stairs at the entrance which had the first names of 129 women along with black smoke grenades, women who have been killed in France since the last festival (Taylor, 2022).
Cannes Film Festival has always been a prestigious platform where great minds come together to celebrate their work. It is a global stage which brings countries together and helps build cross cultural cooperation among different countries and cultural groups. But this time we were also reminded of the importance that such a stage holds in terms of representation and awareness. These acts of protests will go down in history as they were successful attempts at turning heads for the right reasons, for making the world wonder what they should really be focusing on, shiny expensive dresses or the millions of women who are being sold and raped every day at the Ukraine border as we sit behind our screens and pass expert opinions.
Bibliography
Acevedo, N. (2022, May 22). NBC News . Retrieved from nbcnews.com: https://www.nbcnews.com/news/world/activist-crashes-red-carpet-cannes-film-festival-protest-ukraine-sexua-rcna29961
Taylor, H. (2022, May 22 ). The Guardian . Retrieved from theguardian.com : https://www.theguardian.com/film/2022/may/22/group-invades-cannes-red-carpet-to-highlight-violence-towards-women
SCUM (Society for Cutting Up Men) is a radical feminist group who have built their work on the backbone of the manifesto written by Valerie Solanas in 1967.